Three People Die as Storm Ophelia Batters Ireland, Britain
(Tasnim) – Storm Ophelia is expected to cause further disruption in Great Britain today after three people died in hurricane-force winds and hundreds of thousands were left without power.
Scotland is braced for gusts of up to 70mph (112km/h) and flood warnings are in place on its west coast as the remnants of the hurricane batter the British Isles, The Guardian reported.
A yellow weather warning for wind covering Northern Ireland, southern and central Scotland, the north of England and North West Wales is in place until Tuesday afternoon. Met Office forecaster Steven Keates said commuters should expect "very gusty conditions", with winds of up to 70mph. "The strong winds will continue but should moderate a little bit compared to what we have seen."
Ireland experienced the worst of the weather on Monday, with winds of almost 100mph damaging electricity networks and causing widespread disruption.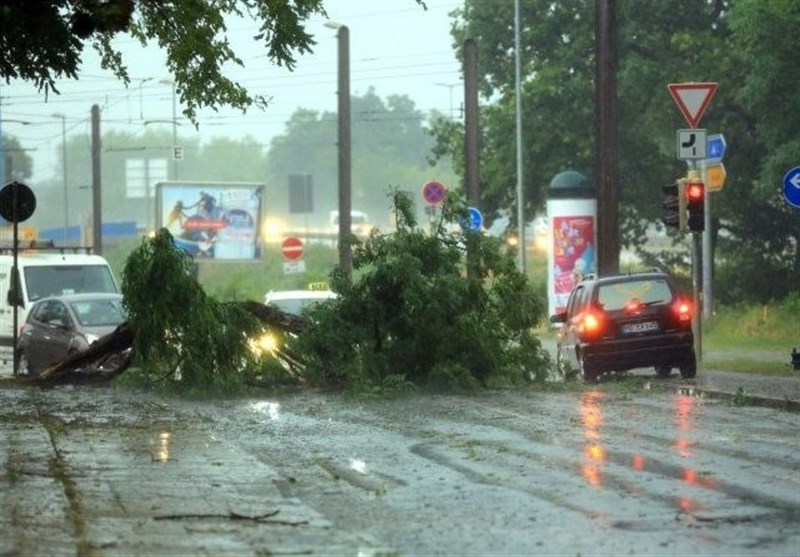 The Irish Prime Minister, Leo Varadkar, described Ophelia's impact as a "national emergency" that forced the closure of schools and colleges and brought the transport network to a standstill on Monday.
He said it was the worst storm in Ireland in 50 years and appealed to people to stay indoors. The chairman of Ireland's national emergency coordination group, Sean Hogan, said: "These gusts are life-threatening. Do not be out there."
Details emerged on Monday night about the three people killed during the storm over Ireland.
The first victim was 58-year-old Clare O'Neill, who died after the car she was driving in Co Waterford was struck by a tree around 11.40am. She had been due to celebrate her 59th birthday on Tuesday. Her mother, who is in her 70s, was sitting in the passenger seat and suffered non-life threatening injuries in the accident. O'Neill had worked as an oncology nurse for more than three decades.
At around 12.30pm on Monday Michael Pyke, 31, was attempting to clear a fallen tree with a chainsaw near Cahir in Co Tipperary. Another tree collapsed on him and he fell onto the chainsaw, police said.
Fintan Goss, the third victim, was killed when his car was struck by a tree in the Ravensdale area north of Dundalk in Co Louth. The married father of three, who was in his 30s, had been travelling home early from work due to the storm when the accident occurred. A local councilor, John McGahon, said Goss and his family are "extremely well regarded" in the community.
Referring to Hurricane Debbie in 1961, Varadkar said: "The last time we had a storm this severe, 11 lives were lost, so safety is our number one priority."
Ahead of her trip to Brussels for dinner with EU leaders on Monday night, Theresa May telephoned the Taoiseach to offer her sympathy for the deaths caused by the storm.
"On Storm Ophelia, the prime minister expressed her sympathies for the loss of life and said the UK government stood ready to provide any support if requested," a Downing Street spokesperson said.
The storm also prevented Bill Clinton from visiting Belfast for a crucial round of talks with local politicians.
The Irish foreign minister, Simon Coveney, speaking from his native Cork, one of the worst-affected parts of the country, said: "This is a weather event the likes of which we have never seen before."
Coveney said the government was briefed that the strong winds would whip up waves on the Irish coastline up to 40ft (12 meters) high and in some cases "taller than a double-decker bus".
As Ophelia struck land at about 10am, there were outages due to felled power lines in the south and south-west of the country. Power cuts continued throughout the day and by mid-afternoon, 360,000 customers were without electricity. The Irish Republic's Electricity Supply Board warned of further outages throughout the night.
More than 140 flights from Irish airports were cancelled and by 10am, all Dublin Bus routes in the capital were shut down. The city's Luas tram system was also closed over safety fears. Every creche, school, third-level college and university in Ireland was closed.
Source: TASNIM.
Comments
comments